varioFormer
CNC cutting, pleating and folding -- with one machine!
Our varioFormer bridges the gap left by conventional duct manufacturing from coils and manual duct manufacturing. Incorporating three machines into one not only saves valuable shop footprint, but also eliminates the need to move heavy sheets of metal between machines when manually manufacturing ducts.
The patented combination tool allows this machine to cut, pleat and fold, while the precision CNC controlled feeding table gives CNC precision for all cutting and folding operations. The CNC controller sequences the production cycle, enabling ducts of different sizes to be manufactured significantly quickly than by conventional means. Because of its compact construction ducts ranging from 100mm up to 2500mm can be manufactured on this machine.
Technical Data:
Width shear and folder:
2500mm
Cutting capability:
1.25mm, steel
1.00mm, stainless steel
Folder capabilities:
smallest measurement: 2 x 175mm
smallest measurement L-form: 10mm
smallest last measurement: 270mm

Size shear and folder:
2500 x 160 x 200 mm (LxHxW)
Folding radius:
max. 3mm
Folder bending angle:
7 - 90° +/- 3° (adjustable by parameter)
Position precision:
+/- 1 mm
Size of pleats:
Z-profile: 160mm x 7mm
T-profile: 50mm x 1mm
Depth of pleats :
adjustable by parameter
CNC feeding table:
2500mm, (optionally 3000mm)
Manufacturing times:
for 1 duct 400x400x1200, apr. 1-2 minutes
Duct types:

complete duct, L-Type, U-Type, 4 individual sides

Seam type:
seam allowances adjustable by parameter
Power supply:
3x400V, 50Hz, 16A, 4kW, NYY 4 mm²
Overall dimensions:
4050x3280x1070 mm (LxWxH)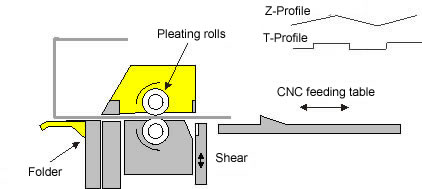 Schematical diagram of the varioFormer
Please view the video of our varioFormer in action.
(You will require a fast connection of at least 256 kbps to see this video. Optionally, you can download the video as an AVI file to your computer hard drive to view at your convenience.)