plasmaDragon
Even more productivity with two tables in one!
This plasma cutter is just as reliable, versatile and field proven as our plasmaWASP, but offers the added advantage of having two cutting areas of each 3m x 1.5m, or one large cutting area of 6m x 1.5m, which can be used for cutting oversized parts or to improve nesting results when using larger sheets. The extra heavy and rugged construction combined with zero-play rack and pinion drive assures greater part accuracy and exceptional sharp and clean corners. A new, patented exhaust system guarantees a clean work environment and clean work pieces.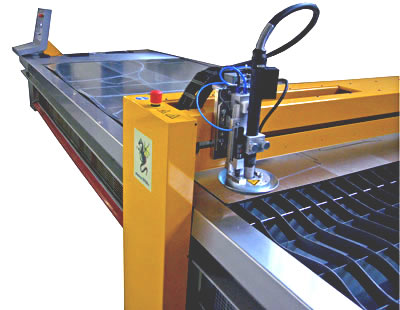 Technical Data:
Cutting area:
6m x 1.5m, or 2 areas ea. 3m x 1.5m
Cutting speeds:
max. 25 m/min
marking using pen, up to 15 m/min
cutting galv. sheet metal 0.6mm thickness, up to 10 m/min

Precision:
+/- 0.2 mm/m
(depending on cut with of torch used)
max. Thickness:
up to 18mm steel St37, depending on type of torch used
Drive:
dual rack and pinion drives on X axis, tooth-belt drive on Y axis, brushless motors
Exhaust:
new, patented exhaust chamber system with moving exhaust on side of table
Tools:
pneumatic controlled tool head for torch and marking pen
Power supply:
3x400V, 50Hz, 32A, 7-10kW, NYY 6mm² (torch power supply)
3x400V, 50Hz, 16A, 2kW, NYY, 2.5mm² (controls and drive)
Pneumatic supply:
1 x 2.5 bar, 30 l/min (pneumatics)
1 x 6 bar, 230 l/min (torch power supply)
Controls:
modern CNC-controller and modular axis controller in 19" rack
Control panel:
PC mounted in control cabinet, with 17" plasma display and stainless steel keyboard
Ethernet network
CNC formats:

The controller can process CAD files in the most common formats:
CMS-format, G-Codes, ESSI-Codes, DXF und EXF, HPGL, SGV, DWG (AutoCAD)
Simple CAD parts can be programmed and saved.
Please view the video of our plasmaDragon in action.
(You will require a fast connection of at least 256 kbps to see this video. Optionally, you can download the video as an AVI file to your computer hard drive to view at your convenience.)
Watch for these special features:

quick part labeling using the marking pen

quick and clean piercing of the parts

clean cutting and fast cutting speed

complete exhaustion of smoke and gases